Undergrads love to begin their essays with dictionary definitions--if I'm lucky (read: never) they'll be from the OED or Merriam-Webster. Usually they're from dictionary.com. Sigh.

In any case, the word "conciliatory"--a word I used in last night's post, actually--has been in my head all day. I just looked it up, and in the spirit of the papers I've been grading already today (and still should be), here is Merriam-Webster's definition:


Definition of CONCILIATE*

transitive verb

1 : to gain (as goodwill) by pleasing acts

intransitive verb

: to become friendly or agreeable
The thing is, most of my friends are pretty liberal. The ones I've hung out with most over the past decade or so, the ones I met after college and in graduate school, tend to be
really
liberal. I get most of my news from NPR and Time Magazine, and consider it balanced not least because I do hear conservative opinions with which I disagree; my most liberal friends find those media outlets far too right-leaning.
In any case, because of the circles in which I move, I don't meet a lot of Romney supporters. Academics are a liberal bunch, and Minneapolis is a liberal city.*** Hood River is, too. Plus, I think I'm also still in a demographic young enough to favor Obama for his own relatively youthful persona and ideas. The few Romney supporters I do know tend to be friends from high school or even earlier.
There are a handful of them on Facebook, though: nine professed "like"rs of Romney/Ryan, and a few more who run Republican. I've been thinking a lot about them today, partly because, although FB has been surprisingly rather silent on topics political (after a brief outpouring of joy last night), I have seen a few posts of sadness, disappointment, and, yes, some bitterness. There were premature cries that Obama had lost the popular vote--and an identification with how Gore supporters must have felt in 2000.
In embarrassing truth, I didn't vote in that election; I was out of state and hadn't filed for an absentee ballot. I also bought into the sentiment around me that there wasn't even a substantive difference between the two candidates, though the subsequent debacle of the election, with the failure of our voting system on global display as a Floridian court handed W. the victory, appalled and horrified me.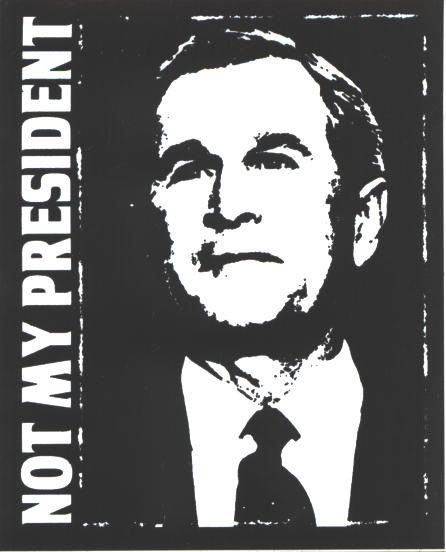 I may have had this sticker on my car
But I do remember how it felt in 2004 to have Bush actually, legitimately, elected, by popular and electoral vote. I couldn't believe that after seeing the mess he'd made at home and abroad over the past four years (and listening to
this This American Life episode
!), Americans would vote to retain him. I believed then, as I do now, that there were nefarious things at play, not least the manipulation into a constant state of fear.
When he won, I was crushed. I was enraged. I was in a state of disbelief. No one had
loved
Kerry or anything, but we were ABBA voters--Anyone But Bush Again.
Anyone
. That election was to have been a referendum on Bush's failed policies, a chance to regain some face in the world--to begin to erase the embarrassment so eloquently summarized by "freedom fries."
I thought Bush was ruining our country. I still believe he did it a dire disservice, mostly by entering unnecessary and unaffordable wars--not just one (largely supported by the international community), but an ill-advised, if not illicit, unrelated attack premised on false evidence.
So I think I can identify a little bit with the friends who thought this election was
their
chance to oust a President they believed was leading the country down a path to ruin. By the end of his two terms, I think most people agreed that Bush had been an epic failure. It remains to be seen how people judge Obama at the end of his second. Obviously I think he's by far the better option to continue digging us out of the mess Bush left behind. But the truth takes its time to emerge, and whatever happens, right now a lot of the country is feeling sad and angry.
How, then, to conciliate? I began, and erased, many FB statuses last night. I wanted to celebrate, but I didn't want to gloat or provoke. I went on a "liking" spree of friends' euphoric posts, but couldn't bring myself to post my own, although I'd posted several politically-themed links over the past several weeks and wasn't exactly in the closet about supporting Obama. I settled on a quote from Jon Stewart's live coverage:
"Perhaps the fever has broken."
This morning I changed my profile picture from the "I Voted" sticker I'd had up since submitting my ballot by mail, replacing it with a picture of me grinning hugely as I hold my tiny new niece, whose eyes are wild and mouth agape as she seems to throw a miniature gang sign. I figured it was just absurd enough to pass my personal only-me-in-my-profile-pic rule, and might--as I think of it in light of the earlier definition--be a pleasing act to gain me some goodwill.
Because I've been feeling kind of like a bad guy! I haven't been nearly as strident as some of my friends, in fora virtual or otherwise. But I did (and, okay, do; I'm still working on that) think Romney supporters were making the wrong, wrong, wrong choice. I was terribly relieved that Obama was re-elected. I'm proud to be an American, and want to celebrate! But it hurts to be on the losing side, especially when you believe passionately, as it seems so many of us did.
So, friend who posted about the impending destruction of all small business (though he appears to have subsequently removed it), I'm sorry. Friend who requested time and space to "lick our wounds," I'm sorry. I know how it feels to believe the apocalypse is upon you.
I can only hope that the fever has broken. I hope that Washington will be able to actually get necessary work done. I hope that we can all still be friends. Really.
*Apparently "in the top 10% of lookups"** at their website
**Firefox's spellchecker doesn't accept "lookups" as a valid word
***The day after the Vice-Presidential debate, a little old lady struck up a conversation with me in line at the post office, in a thick accent criticizing the arrogant young Ryan and his rude behavior. When I asked where she was originally from, she told me she was from Poland--and as a young teenager had smuggled explosives across enemy lines during the Soviet occupation!